Pathway to Fitness
The Pathway to Fitness exercise stations are designed to enhance wellness in our residents. This is accomplished through providing a fun place where residents can participate in a variety of exercise options. The exercises enhance endurance, flexibility, strength, and balance. Residents also benefit from sunshine and fresh air from being outdoors.
Our Goal:
The Pathway to Fitness program consists of several activity and fitness stations located throughout a nature trail. The fitness stations are designed for ambulatory and wheelchair use. In addition to the fitness stations, a pavilion, landscaping and outdoor furniture encourage residents to spend time outside to gain the health benefits of being outdoors.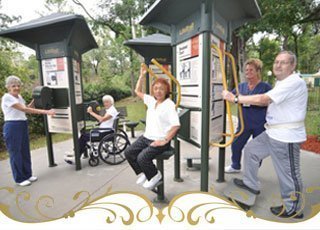 I am very grateful that my mother was treated with excellent care. She was given love, comfort, and attention. The staff at Brooksville Healthcare Center was very professional.
I wanted to reach out to tell you that my dad no longer needs a wheelchair and is walking around his neighborhood with a walker. He is navigating his house like a champ, and is pretty independent again. Mom and dad are back to their routines and we are all happy about that! Thank you for all you've done at Brooksville Healthcare Center!
Brooksville Healthcare Center Staff, I wanted to take the opportunity to thank everyone for all the care and support you provided for my mother. The outpouring of your hearts and loving guidance you gave always brought a smile to Mom. Thank you again.